NYS Music – New York's Music News Source
The Specialists, a New York City-based funk collective, will hold an album release party at Brooklyn Made on Friday, Janaury 13 featuring Will Leet and Bentley Robles.
Founded by guitarist Will Harden and bassist Mikey Rotunno, Specialists have a sound that is cultivated by Harden's powerful vocal and compositional style and Rotunno's masterful production laced with frequent harmonies and hip-hop verses. The duo began with a tradition deemed Funky Friday, releasing new music on consecutive Fridays, leading to a polished, funk-rock listener experience. 
Specialists' most recent EP, Glass, is the precedent to their upcoming album, Hole in the Wall. Music fans will appreciate the subtle, jazz-influenced intricacies of their playing and listeners will be taken away into the sonic spectrum, with ease, thanks to their devotion to listener accessibility and pop influence.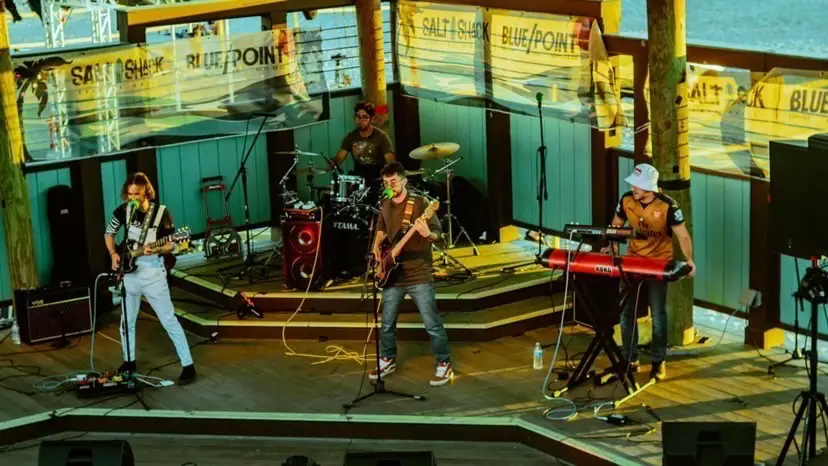 Hole ln The Wall has come to define the sound that the funk-rock band has always been seeking. With changes to their recording process from the help of legendary recording studio Sabella Studios their sound has taken on a new edge and polish while retaining their signature mix.
After Specialists' winter tour in January 2022, the band began writing with influences from the cities they performed in and the artists they met. For example, "Why Do You?" offers a country-rock swing track influenced by the classic sound and culture of Nashville, TN. Touring more frequently, Specialists have catered their songwriting to the reception of their newly gained fans. Having such a dance-oriented crowd on tour, the band wrote "Birdseye" and "Hole in the Wall" just for the occasion. Their latest single, "Glass," covers more ground as well, pleasing the ears of R&B and pop music fans, creating a well-rounded, attention grabbing and energetic album the band have put their hearts and souls into.
Joining Specialists will be Will Leet, a Brooklyn-based singer-songwriter, known as the lead guitarist of international touring act, Sammy Rae & The Friends. Will's music is an eclectic mix of rock, folk, country and baroque pop, with influences ranging from Kacey Musgraves to the Grateful Dead. In September 2022, Leet released his debut full length record, Come Back Roses, a community-sourced, crowdfunded project that was the product of 7 years of songwriting with his co-writer, Chris Burns. When life was put on hold in 2020, Will had nothing left to do but pour every ounce of himself into these songs.
Also joining Specialists will be an artist hailed as "the future of pop" by Monster Children, Bentley Robles. One of the defining voices of the New York underground, Robles is boisterous, impassioned and unapologetically queer, a Chicano synthpop artist born and raised in Los Angeles and now thriving in Brooklyn. His singles "kim kardashian" and "don't listen to this song" (a collaboration with Gregory Dillon) also debuted with acclaim by METAL, Pride.com and more.
Tickets for Specialists with Will Leet and Bentley Robles are available here.

NYS Music is New York State's Music News Source. Come here for music reviews, news, interviews and the latest on events throughout New York State and surrounding areas. NYS Music offers a daily mix of live music news, show & album reviews, artist interviews, videos, and much more!
Prev Post
Legendary Guitarist Jeff Beck dead following Brief Illness
Legendary Guitarist Jeff Beck dead following Brief Illness
Ellicottville's 2023 Winter Blues Weekend Coming up January 20-22
Historic Cohoes Music Hall Announces Three New Events
"The Marvelous Mr. Mizrahi" returns to Café Carlyle, Feb. 14-25
Comments are closed.

Robles and Dillon collab to release pop punk debut…
Jon Spencer & the Hitmakers Schedule Tour With Three NY…
Specialists Return to NY With Summer Tour Starting on July 1
source